Changing your UK Driving license into a Japanese one
This post is about how I was able to use my own full UK Driving License to obtain a Japanese Driving License. The procedure is for Tokyo, but should be similar throughout Japan.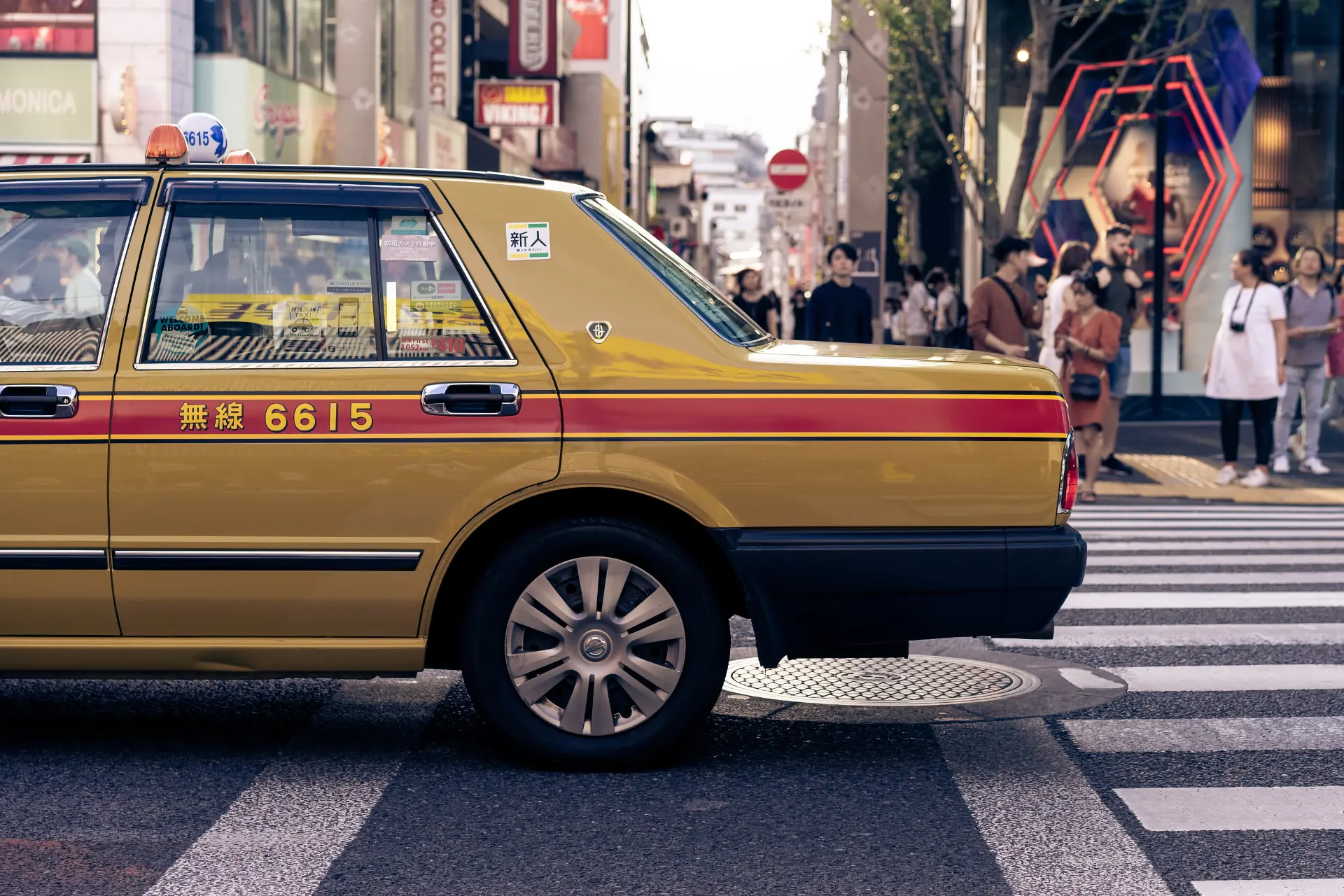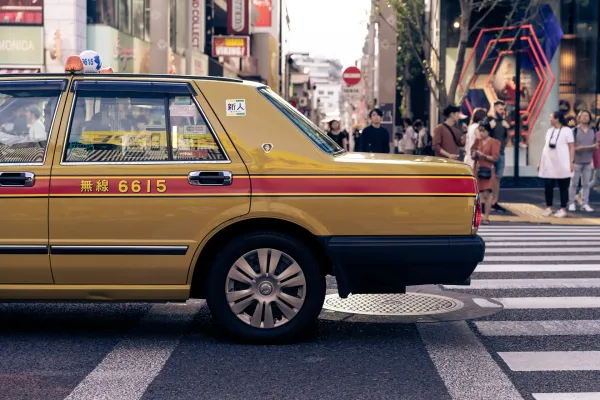 First of all; if you are coming to Japan for a vacation you do not need to (and indeed, can not) convert your drivers license. Instead, go to your nearest Post Office and ask for an International Driver Permit. Tourists and other non-residents of Japan can not apply for a drivers license.
This post is about how I was able to use my own full UK Driving License to obtain a Japanese Driving License. The procedure is for Tōkyō, but should be similar throughout Japan.
Updated: December 2016

A huge thank you to Nikolay Dimitrov, who's let me know about a change in policy at the test centre regarding eligibility for the licence swap.

You need to be able to prove that you have lived in the UK for at least a year and that you've held your UK driving licence for at least 3 months before you can swap.

If you have compatible dates on your passport, that will be sufficient. Otherwise, you might need to plan ahead and being a Council Tax / Inland Revenue / Bank letter with you.

This shouldn't affect your ability to swap your licence if you can't do this, but it will change the type of Japanese licence you are given. If you end up with a beginner licence (like I did), then you must display a special mark on your car for one year to warn people that you are a new driver.
The things you will need
Before you go to the Licensing Center and do the actual swapping, you'll need to have the following:
Your Residence Card
Your Passport
Your Photocard UK Drivers License
The Paper Counterpart to your Photocard
Proof that you have lived in the UK for at least a year, or within 3 months of your driving licence being issued.
A valid Jūminhyō from your City Office which
must show your nationality.
"Driving License Size" photographs.
A Japanese Translation of your drivers license from
the JAF.
Enough cash with you. Cards can not be used for payment.
JAF Translation costs 3,000円
Issuing your new license costs 5000円
A Japanese speaking friend if you can't speak Japanese.
A good book, you will be waiting a lot.
Getting your license translated.
This was a pretty straightforward procedure. There is a form which you must complete before coming to the JAF Office.
Since I live in Tokyo, I went to the Tokyo Office, but their website lists all the other offices across Japan.
To get there, take a train to Shimbashi or Hamamatsuchō and then take the bus. If you feel energetic, or like to walk, it"ll take about 10 minutes from either station. It's  just 730円 in a taxi.
Take your license (both parts), your passport and your residence card together with the completed application form to your closest JAF office. You'll also need to pay the 3,000円 translation fee in cash.
This is no need for an appointment and usually the translations are issued the same day. I went at around 1500 on a Tuesday and had my translation by 1600.
When you hand over the completed form, the member of staff will tell you when to come back to collect the translation.
When you go to collect the translation, it will be presented to you for you to check. They only translate the photocard part; however both parts are needed to show that you hold a valid UK license.
Unless your license shows that you have 12 (or more) penalty points, they will not prevent you from changing to a Japanese license.
With the translation in-hand; you can now go to the licensing centre.
Receiving your new Japanese License
Driving Licenses are issued by the Police in Japan and can only be obtained from Test Centers, which are located throughout the country.
There is an incomplete list of them available here, and in English.
You will need to bring:
Both parts of your license
Your passport
Your residence card
Your Jūminhyō
Your photographs
The translation of your your driving license
5000円 in cash to cover the issuing fee of the
license.
A book
I chose the Koto Test Center since it was the easiest to get to. The closest station is Toyocho on the Tokyo Metro Tozai Line.
Take Exit 3 from the station and walk straight from the station until you come to a street with a Lawson Station on the corner on your right. This should take 2 - 5 minutes.
Turn into that road, the Koto Test Center is the big building on your left, about 10 meters away.
There will be an information desk inside to tell you where to go. In the case of the Koto center, go to Window 1. The window opens exactly at 0830. It is closed between 1100 and 1300 for lunch.
There are no forms to fill in. Just give everything to the clerk and answer any questions they may have.
Once they have checked your paperwork, you"ll be asked to create a PIN on the machine next to the window. Enter a number twice. It doesn't matter which one it is. Keep the ticket it prints out, you'll need it later.
Take out your book, sit down, wait. Your name will be called eventually.
Back at the window, you must fill in a short check-box questionnaire and sign it. The questions are along the lines of "have you ever passed out while driving?" and so on.
Once that is done, you'll be told which windows to go to next and in which order. In my case, it was 0, 7, 8, 9, and back to 1. You will be handed your license application form. Keep it with you.
At Window 0, you pay the license processing free. Hand your form to the clerk with the cash. The clerk will stamp the form and give you a receipt.
At Window 7 you take a standard eye test which checks for colourblindness and acuity. You have to call out which part of a circle has a gap cut out of it. The circles are various sizes. You also need to tell the difference between red and green. Once you pass the test, the clerk administering it will also stamp your form.
Interestingly, my eyesight is sufficient for me to legally be able to drive without my glasses while in Japan. This is a scary thought.
At Window 8 a clerk checks the other stamps on your form and then adds their own stamp.
At Window 9 you get your photograph taken. This will be the one that's actually used on your license. The photographs you brought with you were for your application. Give him the ticket the PIN machine gave you. He'll scan it and return it.
Back at Window 1, you hand your form and the PIN ticket  to the clerk.
The clerk will give you the PIN ticket back, and a card with a number on it. You must take this up to the fourth floor and wait for the number to be called.
Once your number is called, you collect your shiny new license!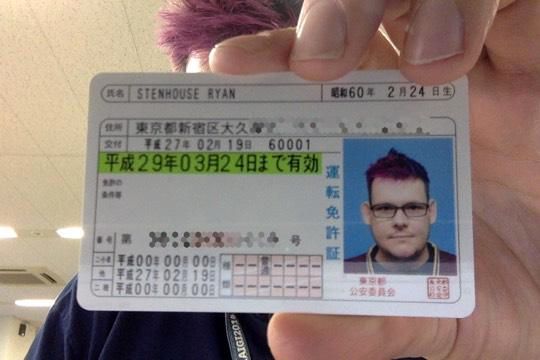 Take the license to the machines at the side of the room. The machine will read an IC on the license and ask you to input the PIN you chose.
There you can check the details on your license are correct. If not, press the gray button. If yes, press the blue button.
That's it!
You will notice that at no point in the process did I have to take any sort of written or practical test to assess my driving ability. Japan has an agreement with the UK and several other countries which exempts us from these tests since we already drive on the same side of the road and have very similar traffic laws.